Tips for How to Send Your Kids to School on the Right Foot
Each product we feature has been independently selected and reviewed by our Better Health and Home editorial team. If you make a purchase using the links included, we may earn a small commission at no additional cost to you. Click here to learn more.
Setting Them Up for Success!
With school starting back across the US, many are finding it to be a very stressful, and nerve wracking experience. Sadly, our children pick up on the added stress we feel, and are affected the most by it, but are unable to fully communicate how it bothers them and sets the tone for the day (depending on their age and maturity level).
Have a Suitable Bedtime
Children (especially young children), need anywhere from 10 to 12 hours of sleep a night, in comparison to adults, who can function just fine on 6 to 9 hours of sleep. The reason being, is kids are continually growing, and need the adequate amount of sleep for proper brain development and physical growth. I'm sure you have also noticed that your mini-me is much more pleasurable to be around when they have had a good, solid night's sleep.
Adequate sleep will also help improve your child's academic level, by enhancing cognitive activity/skills, and increasing memory retention.
Many parents dread the nightly bedtime routine, because it tends to be a 30 minute, to two-hour process from start to finish. For this very reason, the bedtime process usually starts around 7:00 in our household. This is a good bedtime for kids (especially elementary aged children), for this starting time ensures the kids are in bed, between 7:30 to 8:00 pm, which gives them the 10 hours of recommended sleep they need, since their wake-up time is between 5:30-6:00 am.
We also like to throw little incentives for "getting to bed on time" out there for them, like; if they are completely set and in bed by 7:15 to 7:30, then they can have story time (which is one of their favorite parts of the day, where I read books to them of their choosing, and/or they are read as many books their heart desires within an allotted timeframe), and the earlier they are in bed, the longer story time will be.
Allow Enough Time in the Mornings to Get Ready
How much time you need to get ready in the mornings, depends entirely on you and your family's specific needs, because there are several things to factor. Some children may wake up bright-eyed and ready to take on the day, while others may wake up more slowly, and need a bit of time before socializing with others (just like adults react to their mornings).
Breakfast, driving distance, and morning chores, are more things to calculate into how much time your family needs in the morning.
In our household, we usually shoot for an hour and fifteen minutes, to an hour and forty-five minutes to get up, and ready to head out the door. This allows plenty of time for the daily morning essentials, eating breakfast, packing a lunch, and knocking out a few chores (if time permits), without feeling rushed, or in a hurry to get going.
The rushed feeling, we get when we don't have enough time to complete all our tasks, only causes unnecessary stress, and sets the tone for the entire day (not just for the kids, but for the whole family).
Have a Consistent Routine
I can't stress enough, how important it is to create a daily routine that works for your family, and then do your best to implement it every day (or at least on school days).
Kids need consistency in order to really thrive.
Proper Nutrition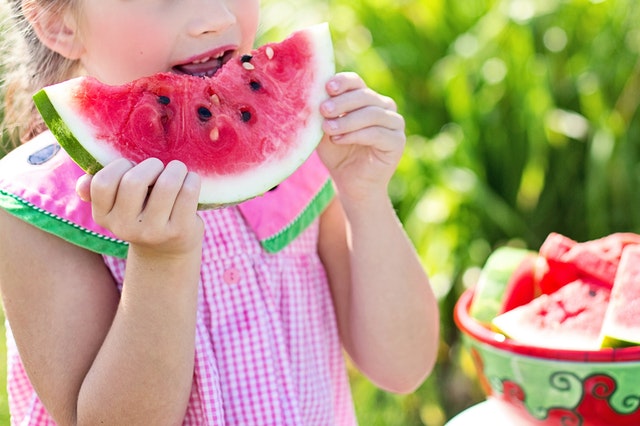 Nutrition should be a priority in everyones household, for our body is literally a machine, that needs the right fuel, in order for it to function properly and operate at its best.
As we mentioned above, children are continually growing, and need proper nutrition (along with good sleep), even more so than adults, because their body is constantly developing and changing.
Please don't let the words "proper nutrition" scare you, because creating a healthy, balanced diet for your kiddo, is much easier than you think. It just requires a little effort to implement healthier choices and practices, while eliminating some of the bad stuff.
It is recommended that children eat roughly 5-6 (small meals) a day (breakfast, lunch, and dinner, with a couple snacks in between), much like the recommendation for adults, just with much smaller portion sizing. A healthy plate, ideally should be filled mostly with fruit and vegetables, along with good protein, healthy fats, and low glycemic carbs. This is the rule of thumb and what is recommended, but it is ok to indulge with foods that you and your kids enjoy (that may not necessarily be considered healthy) from time to time. Everything in moderation.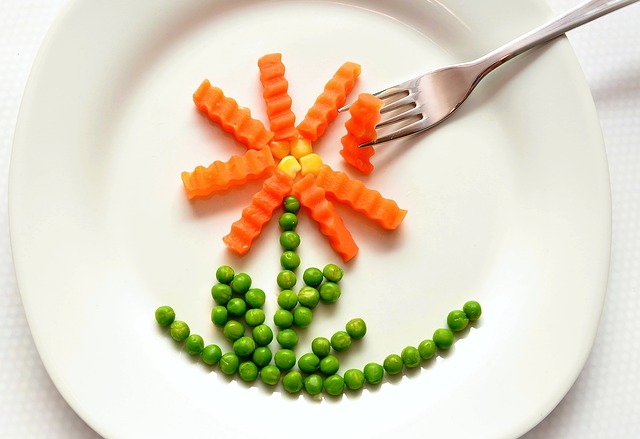 Many of us have very busy schedules, and find ourselves eating out often, which is only filling us up with empty calories, that is doing more harm than good to our body (not to mention our wallet). To keep from eating out as often, try to meal plan as much as possible on days you tend to have more time to work with (many find that weekends is a good time for meal prep).
Naturally, it is difficult to never eat-out, or get fast-food, which is perfectly fine in moderation, just try to not make it a daily habit. When it comes to eating out, or preparing each meal (or snacks), ask yourself, "is this giving my body the good fuel it needs, or is it just empty calories that is causing my body harm?"
"But my child do not like to eat anything that is considered healthy, what should I do to turn that around?"
I hear this question often, about kids who are severely picky eaters, and the best advice I can give, is to never give up offering them healthy options. Taste buds change, perspectives and way of living changes, even what is considered "cool" changes often, so keep offering those healthy options, and it will turn around one day.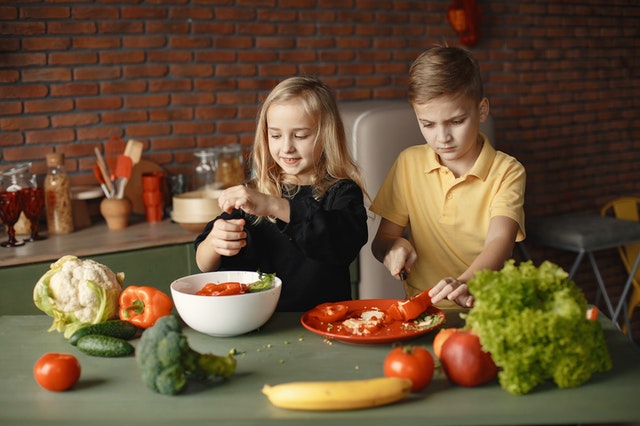 Another Tip: Often times, kids are more likely to eat a good nutritious meal, if they are involved with the prepping and cooking process of that meal. Being involved, gives them a sense of pride and accomplishment, and they usually enjoy eating it, because they are basking in what their hard work created.
Supplements
Supplements is a big part of proper nutrition and development, for it ensures that the children are getting all of the vitamins and minerals they need during the developmental and growing stages.
Not all kids vitamins are created equal however, which is why it is important to read nutrition labels.
For example, many kids vitamins on the market today are loaded with unnecessary sugars (creating energy spikes/crashes, which could contribute to tantrums, as well as potential cavities), and vitamins that are not easily digested for most children (meaning they are not being fully absorbed like they are intended to).
When looking for a good multi-vitamin for your child, try to get one that is plant based, non GMO, sugar free, and if they contain a good probiotic (for gut health and digestion) and/or omega 3's (for good brain development), then its especially a winner, and providing your little one the healthy foundation they need to thrive.
Below is our top recommendation for kids supplements.
The "XFactor Kids" makes an excellent choice for a multi-vitamin, because it is non GMO, plant based, no artificial sweeteners or preservatives, good source of absorbable folate, and aids in a healthy digestive tract with its probiotic strain.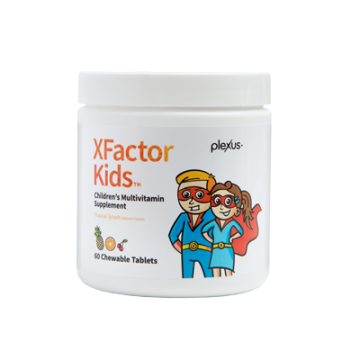 Benefits:
Multivitamin + Probiotic Chewable
Supports healthy growth & development*
Supports growing bones, teeth, and muscles*
Supports immune health and brain function*
Supports Digestive Health*
4 billion colony-forming units (per two tablets)◊
Helps support intestinal yeast balance*
Supports digestive regularity*
Gluten Free and Vegetarian
No Artificial Colors**, Flavors, Sweeteners, or Preservatives
Non-GMO
Featured Ingredients Include:
Folate (as Calcium L-Methylfolate) – The most bioactive form of folate, a water-soluble B Vitamin that is essential for cell replication and growth*
Vitamin D (cholecalciferol) – Bioavailable form of this fat-soluble vitamin that contributes to calcium absorption, the digestive system, and immune system function*
Bacillus subtilis (DE111®) – A well-studied probiotic spore that concentrates its actions on supporting immune function and digestive stability*
The "MegaKids Microbiome" is something the kids look forward to each day! For it comes in individual packets that you mix with 4-8 ounces and drink each day.
The flavor is like a fruit punch (without all of the added artificial flavorings you find in store bought juice mixes), and is packed full of DHA omega 3's (for cognitive health and strong mental activity), as well as a prebiotic fiber that promotes the growth of good bacteria in the gut (which can cause many health issues if there is not enough good bacteria in the gut, and too much of the bad bacteria is running rampant).

Benefits:
Supports Healthy Brain and Cognitive Development*
Convenient, Nutritious, and Enjoyable Way to Ensure Your Kid Receives DHA on a Daily Basis
Enriched with a Unique Blend of Brain Nurturing Ingredients*
Nutrients to Support Growing, Healthy Kids*
Supplements Common Nutrient Gaps in Kids' Diets*
Provides Lutein, an Important Nutrient that Helps Support Cognitive Function in Kids*
Dietary DHA Intake is Associated With Cognitive Function and Behavior in Young Kids*
Good Source of Choline
No Fishy Taste!


Features

1 gram Gut-Healthy Prebiotic Fiber Per Serving*
Includes DHA (Omega-3), Choline, and Lutein
Provides 50 mg of Sustainably Sourced, Vegetarian DHA (Long-Chain Omega-3 Fatty Acid)
Gluten Free, Vegetarian, and Non-GMO
No artificial colors, flavors, sweeteners, or preservatives
Featured Ingredients Include:
Docosahexaenoic Acid (DHA) (from algae) – A very long chain omega-3 polyunsaturated fatty acid (VLCFA); DHA is a critical nutrient for brain development*
Lutein (from Tagetes erecta or Marigold) – An antioxidant that belongs to the carotenoid group; Lutein is important for maintaining eye health*
Choline (as Choline Bitartrate) – An essential nitrogen-containing nutrient needed for proper brain health and necessary for healthy cell membranes*
Prebiotic Fiber – Food ingredients that promote the growth of beneficial bacteria in the gut*
Hydrolyzed Guar Gum – An indigestible prebiotic fiber that has been show to enhance the growth of helpful gut microbes Bifidobacteriumand Lactobacillus spp.*
*These statements have not been evaluated by the Food and Drug Administration. This product is not intended to diagnose, treat, cure, or prevent any disease.
Don't Skip Breakfast
We just went over the importance of proper nutrition, so it may go without saying, that breakfast is the most important meal of the day. The word breakfast broken down, means to break-fast, as in breaking the fast that your body just underwent while you were sleeping.
While fasting may be good for some adults, keep in mind that children are continually growing, and need the recommended amount of calories each day to properly fuel the body. Skipping breakfast for kids, can cause their blood sugar levels to rabidly drop, making them irritable and unable to maintain focus, which are not good traits to have in a school setting, where focus is imperative to learning the material being taught in class.
Hope you enjoyed reading these tips, and please feel free to share any other tips you may have that helps your mornings flow smoother, and much less stressful before school.
Also feel free to share any thoughts or questions you may have in the comments below.