This Plant Contains All the Nutrients Your Body Needs Daily
Moringa Oleifera… Who Knew?
There is no wonder why scientists refer to the moringa plant as being "the miracle plant," for it is chock full of antioxidants, amino acids, vitamin C, vitamin A, potassium, calcium, protein, fiber, iron, and the list go's on and on.
Moringa can also boost energy levels, and support a platform of homeostasis within the body, creating a firm foundation for preventing many chronic illnesses.
Moringa can be enjoyed in a number of different ways, for you can eat it raw, toss it in a salad, drink it as a tea, add it to your favorite smoothies, take daily in a capsule form, or even mix it in your morning cup of coffee, or favorite daily beverage (if you have the powdered form that is).
What is Moringa Oleifera?
Moringa Oleifera, also known as drumstick tree (because it has long, thick seed pods), horseradish tree (for the roots flavor resemble horseradish root), and benzolive tree (due to the oils that can be extracted from the seed pods), and the best of all, miracle tree (because moringa possess countless health benefits).
It is a tree that is native to Africa and Asian countries, but also grows rapidly in many sub-tropical to tropical regions.
Moringa is a fast-growing tree, gaining 9 to 16 feet per year (if you are not cropping it), and can get as tall as 35 feet when fully mature.
Moringa Plant Health Benefits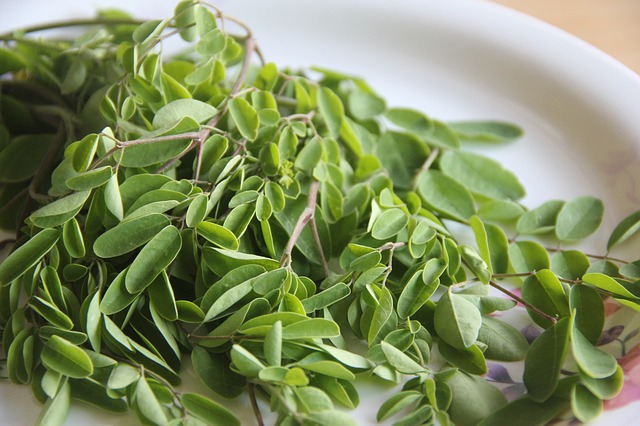 More and more studies are being done every day on the moringa plant, because scientists are discovering that the health benefits of moringa, really has no end.
Moringa truly is a super food, for it is:
Extremely high in protein (and all eight essential amino acids)
High in fiber
Three times more iron than what is found in green leafy spinach
Three times more potassium than one banana
Four times the amount of calcium found in a glass of milk
Four times the amount of vitamin A found within a carrot
Seven times the amount of vitamin C found in one orange
Moringa leaves are also chock full of free radical fighting antioxidants, which is vital for everyone to incorporate into their diets, in order to decrease the odds of developing cancer, Alzheimer's, cardiovascular disease, liver disease, and chronic illnesses later on in life.
Moringa Can Help Increase Energy Levels
Sadly, many of us suffer from fatigue and low energy levels, mostly due to toxin build ups, free radicals (which eats away at the healthy cells within our body), and various imbalances.
Moringa is great for detoxing the body (especially for detoxing the liver), flushing out toxin buildup, while contributing towards restoring damaged cells, and clearing brain fog.
The high antioxidant levels within moringa, fight off cell damaging free radicals, which will also contribute towards not only increased energy levels, but also boosting the immune system.
Moringa May Help Reduce Stress, and Increase Sexual Performance for Men
According to scientists, male sexual disfunction is very complex where the brain, emotions, hormones, muscles, blood vessels, and nerves are all to be considered for healthy sexual function.
Stress directly effects all of the above, as well as creates a breeding ground for oxidative stress, which is why a very stressful lifestyle for a man, can often times lead to sexual disfunction. It's been proven, that sexual disfunction for men can induce anxiety, depression, and depilating feelings of inadequacy, therefore effecting the quality of life for that individual.
A study was conducted in Wistar rats, where they were separated into three different groups, feeding them moringa leaves in various doses of 10, 50, and 250 mg/kg (per body weight), before exposing the rats to a high stress situation for seven days.
Scientist noticed an increase in sexual performance in all test subjects (including the group taking the lowest dosing), by decreasing intromission latency, and reversing to increase intromission frequency. Test showed that moringa leaves also helped increase tester one levels, while suppressing PDE-5 activity (phosphodiesterase type 5), and decreasing serum corticosterone levels. Which scientists have stated moringa appears to be an aphrodisiac.
The theory behind it all, is that the antioxidant effects of the moringa greatly contributed towards warding off oxidative stress, which helps bring balance (homeostasis) to the body, and making stressful situations more tolerable.
More research is still needed to understand in depth the role moringa plays for improving male sexual disfunction, but based off of what we currently know, moringa is an excellent supplement to add to anyones healthy lifestyle.
What is Moringa Leaf Powder?
Moringa leaf powder, is a simple process of harvesting leaves from the moringa tree, and letting them dry completely, before grinding the leaves up into a fine, silky powder.
Unlike many herbs that tend to darken or change color when dried, moringa maintains a rich, bright green color that tantalizes the senses.
The health benefits of moringa are slightly increased when consumed in a powder form, for the drying and crushing of the leaves, makes a super concentrated, nutrient dense formula, that can easily be added to any morning beverage, or daily smoothie.
It's also great for sneaking (for those picky eaters in your family) into, oatmeal, yogurt, soups, dips, dressings, casseroles, sauces, etc. Giving your family a health boost, without them even realizing it (which is a score for any mother, or wife wanting to see their family making healthier choices).
Different Methods of Drying Moringa
Like with anything, there are multiple ways to prepare and preserve moringa leaves, which will result in various colors and textures, and may alter nutritious levels.
The most common way to dry moringa, would be to harvest in small bundles, and hanging until completely dry. Hang drying will preserve the nutrient content within the moringa leaves, but will alter the color from a bright vibrant green, to a more dull, subtle herbal appearance.
Dehydrating moringa leaves however, still preserves the nutrients contained within the moringa plant, in a more concentrated form, while also preserving the beautiful, vibrant green color that the moringa plant is known for.
Be Leery of Amazon Moringa Powder
Often, sellers on Amazon do not provide the pure, full quality they advertise with their product. You could be purchasing low quality moringa powder, or, it could possibly be mixed with something else of cheaper value, so that the seller can make more of a profit on his sales.
It's hard to trust the reviews you read on Amazon with each product nowadays, because sellers can strategically buy (or offer incentives for) lengthy positive, five star reviews.
Amazon unfortunately does not have the ability at this time to monitor all the reviews and the sources of those reviews, which can result in many disappointing sales for the buyer, because you are purchasing a poor-quality product, that is rated as a top quality.
When it comes to purchasing anything on Amazon, make sure that you fully study the product, shop around (because often times, Amazon is more expensive than if you were to buy the item at your local store), and really read through the reviews. If you are finding nothing but five stars across the board, and the product seems "too good to be true," then it probably is.
Depending on Your Region, You May Be Able to Grow Moringa Yourself
As mentioned above; Moringa is very easy to grow, if given the proper conditions.
Moringa prefers cold hardiness zones 9 and 10, but can be grown in other areas with the proper care and foundation.
If you are interested in learning more about growing Moringa in your region, as well as care tips, hacks (for more successful growing), and different methods for growing, then you can find it all in this article Reap the Benefits of Growing Your Own Moringa Tree Today.
Barely Scratching the Surface
As mentioned above, moringa is highly praised for its many health benefits, but scientists are still learning more each day the magnitude of what moringa can prevent and treat.
From superfood blends, to picking them fresh off of your very own tree for tossing into salads, it is easy to add moringa into any busy lifestyle. Having a delicious nutty flavor, it's easy to fall in love with moringa, and find new ways to add it to everything you consume.
I hope you have found his article to be useful. Please feel free to share any of your thoughts and/or questions below in the comments.